Since the day, the world has grown towards more digital our own local business vendors have survived but they had managed more in recent times since the world going through a pandemic COVID-19. A lot of businesses had to close it because of the pandemic and no earnings. They must find a new business or a place to start from new beginnings. Where the world getting more influence towards brands through social media so why not make them influence towards local for vocal the same.
Helping local business vendors for happiness!
You are or not an influencer help the locals by creating a post or story for them.
Make the vendors aware about adding their business on google maps and review.
Add a review for them and share it with your friends or family.
Make them aware of social media. Help them create a business profile on Instagram or Facebook, where they can sell their products or services.
Share their profiles or post with others, so more public could engage or get aware of their own local vendor's products or services.
Tag brands, influencers, or bloggers on the local pages comment section so they could collaborate with them. It will help them for a better reach.
Woah, you helped a local business!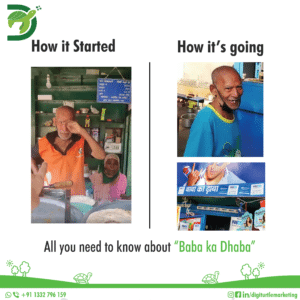 A few days back, A food blogger Gaurav Wasan uploaded a video of an aged couple of 80 years old running 'Baba Ka Dhaba' at Malvi Nagar, Delhi which got viral all over the social media platforms and they got a lot of support from many big politician's, actors, bloggers, and common people. It just happened because of emotions and connections between the baba and people. Also, by spreading positive news about a local business owner after so long on social media. The positivity and dedication of each person to help them made all of us united. If we can help one person then why not the rest. Your friend or family member is suffering from the same situation, you don't need to head 'Baba ka Dhaba'. Nevertheless, not only food vendors there are many other vendors who need the same support or less but they need the support of us.
Try to help once the happiness you will provide to someone or yourself is the biggest gift ever. The blessings they will give you in return for helping them that is the real take and give. Help them with humanity instead of any reason.
Click know more about 'Baba ka Dhaba'