Good Times can come any day at your doorstep!
Covid 19 has breakdown each and everyone. The impact could be seen on social media too. A lot has happened bad this year but a bright sunny day brought happiness yesterday to a aged couple through social media. Who says hard work doesn't pay off. Two days back a blogger from Delhi uploaded a video of 80 years old couple running 'Baba ka Dhaba' which went viral across the social media. Next day after being viral 1000 of people reached out to the place bought food and supported them through monetary basis. Many bloggers, actors, media, politicians, NGO's and people have contributed for them.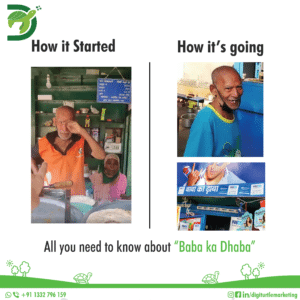 How 'Baba ka Dhaba' started?
In 1961, when they both moved to Delhi at the age of 21 they started with a fruit stall but as they were growing and glowing older they planned to open 'Baba ka Dhaba' at Malviya Nagar, Delhi in 1990. It took 69 years to them what they have wished.
Who is behind this venture?
A couple Kanta Prasad and her wife Badami Devi runs this venture from past 30 years at Malviya Nagar Delhi. They have 3 children two sons and one daughter and nobody helps them. They do their work by themselves. They came at morning 6 and till 9 they complete making food to sell. They says before lockdown people use to visit the place but after lockdown, it became less.
How 'Baba ka Dhaba' went viral?
Two days back a food blogger went to this place in Malviya Nagar and got mesmerised with the taste of food and the enthusiasm of the old couple selling food at the age of 80. He decided to help them and by luck, the video went viral around the social networking sites and became a headline of media channels. The initiative of one brought them thousands of supporters. They have to close early the next day after the video went viral as all the food got sold. From politicians to Ngo's to actors to the general public. They got immense love. After getting viral Zomato – the giant food delivery app has decided to add 'Baba ka Dhaba' on their website for ordering.
UPDATE: baba ka dhaba is now listed on zomato and our team is working with the elderly couple there to enable food deliveries

thank you to the good people of the internet for bringing our attention to this ❤️

— zomato india (@ZomatoIN) October 8, 2020
Perks of the video went viral!
Good days have no age. It can come at your door any day and anytime.
Social media has a strong power to influence people and make the bond stronger.
Love can go through with anything in the world.
Destiny can turn any day and any way to you.
'BABA KA DHABA' is the next place to cherish for couples!
We recommend #BabaKaDhabha for your next date 🔥

— Tinder India (@Tinder_India) October 8, 2020
Nevertheless, social media marketing is the key to make your local business trending and popular across the world. Share your own business or help your near ones who are potential workers but have no clue regarding digital marketing. Maybe that place could be another 'Baba ka Dhaba' who needs support!
Why to go Delhi when you can help in your own city?
After trending #BabaKaDhaba lot of people helped them but it should not stop over there. There are many out there who needs the same support and love. It's very near to you. All you have to do is look around and help. Another Baba ka Dhaba is waiting for you!